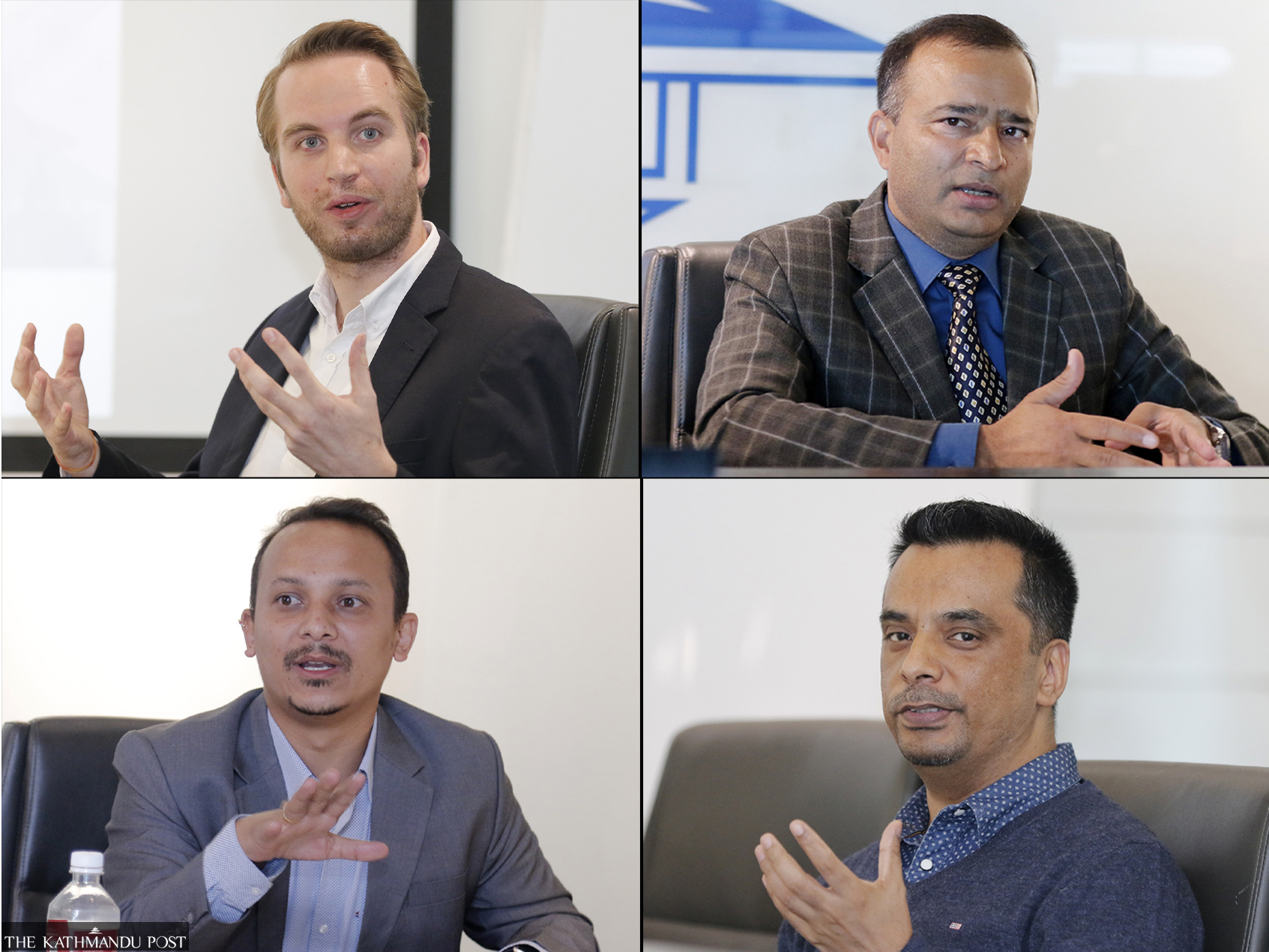 "We cannot compare the Internet boom with the growth of e-commerce"
Almost all of the Nepalese population has access to the Internet, according to the Nepal Telecommunications Authority. But, according to the Least Developed Countries Connectivity Status Report 2021, even among countries with high internet penetration, knowledge of e-commerce platforms is low in least developed countries like Nepal. The Post spoke to some key stakeholders about the state of e-commerce in Nepal, its potential, the constraints and the steps to be taken to realize its full potential. Excerpts:
Lino Ahlering, Managing Director, Daraz Nepal
Post a photo
Everyone connected to the ecommerce ecosystem in Nepal has seen a lot of changes in the business over the past three years. The Covid-19 pandemic has helped accelerate the growth of the e-commerce sector around the world, and Nepal is no exception to this trend. In the case of Daraz, the progress has been enormous. After Alibaba invested in Daraz in 2018, there has been a 1500% growth in terms of products delivered over the past three years, while product varieties have also increased by 1000%, and our team is also increased from 90 to 700 people in normal times. Our payment partners have experienced tremendous growth. Initially, 80% of the orders came from the Kathmandu Valley. We are also trying to increase our presence outside the valley. Today, less than 50% of orders come from Kathmandu and this trend will continue.
Nepal may not be the biggest market in Daraz due to its relatively small population compared to Pakistan and Bangladesh, Alibaba invested in this market for the reason and they really believed in this market. The population of 30 million is still a big market. Nepal can be compared with Sri Lanka with a population of around 20 million, but it has attracted more investment in e-commerce. The banking sector in Sri Lanka is more digital, which has made the difference. In Nepal, the banking sector took too long to digitize the payment system. Another problem in Nepal is that the internet data charges compared to Pakistan and Bangladesh are very high. The more data becomes accessible to people, the more use of online services increases. Likewise, the more accessible logistics become, the more it will facilitate the growth of e-commerce.
In order to ensure prompt delivery, we have also invested in delivery by launching Daraz Express. Nepal needs to attract more investment in the e-commerce sector. But, there is a complicated process to attract Foreign Direct Investment (FDI) to Nepal and it takes time. We would generally be happy if more competition happened, because competition makes you more innovative. We are by far the market leader with 1.1 million Nepalese using Daraz every month. But, if there is not more investment in the e-commerce sector in Nepal, the ecosystem is not functioning well. As we prepare for the 11:11 sales, we hope to see a massive increase in sales. 11.11 sales increased more than 18-19 times compared to normal days in all markets.
Manohar Adhikari, Founder, Foodmandu
Post a photo
We started Foodmandu in 2010, there was no e-commerce business focused on the local market. A few of them started in the early 2000s, but they have focused on bringing gifts to Nepalese abroad. A few years before starting Foodmandu, I used to work for a company where it was difficult for us to find a good restaurant during the tiffin period. We believed that others may also have faced similar issues. So, I started this business. As it was the beginnings of e-commerce, it was a challenge to involve our partner restaurants, and consumers also needed to be educated.
So even though we started the business in 2010, it wasn't until 2015 that I was able to get some traction in the market. I think that by starting Foodmandu, we have contributed to a certain extent to job creation and helped formalize our economy because our partners must work transparently. During the containment, our presence supported the catering activity. Today the whole industry is developing and the company is also developing and the future is also bright. With the change in lifestyle and people becoming busier and busier, food delivery e-commerce companies like ours are helping them get them food on time and eat on time and save time. for the people.
People started to feel our value added service and its importance. We have clients who have called on us for over a decade. The number of control frequencies increases.
For the growth of e-commerce, all factors must play an equal and important role, such as the Internet and the method of payment. But I think logistics play an important role for the growth of e-commerce. There is a problem in finding the exact address of our customers despite the use of digital cards which is one of the biggest challenges in reaching their door without calling them.
E-commerce was given a huge boost after the country went through the pandemic that helped e-commerce grow four to five years ahead.
For expanding food delivery businesses like ours, our service in rural areas is difficult as most restaurants are centered in urban areas and as food items are perishable it becomes difficult to reach rural areas.
Mahesh Sharma Dhakal, Senior Deputy Managing Director, Global IME Bank
Post a photo
Particularly after the Covid-19, the use of electronic payment has increased. Attendance is decreasing in bank branches. While the pandemic has created many problems, it has also encouraged digital payments and transactions. If we see the volume and number of total transactions, there has been significant growth. But I think there is still a lack of awareness among all stakeholders. The government should also do more to promote electronic commerce. It can set standards that payments below Rs 2,000 or Rs 5,000 must be made digitally. There are three stakeholders in e-commerce: banks, merchants and customers. Banks are already prepared for the technology for digital payment. Merchants are not fully prepared and many of them still do not accept digital payment. More importantly, customers must also be prepared. To achieve a cashless society, we still have a long way to go. To encourage people to switch to digital payment, the government should subsidize transaction fees or charge a minimum amount that will increase online transactions. I think the PN fees are quite high. We can create a fund that government and the private sector can contribute to to minimize the burden. Awareness is also just as important when it comes to services. But if we analyze the trend of the last two or three years, the growth of online transactions is satisfactory, and the volume is increasing every month and every year. We hope that the national change brought by the government will help it to develop.
Roshan Lamichhane, Strategy Director, eSewa
Post a photo
When we launched eSewa in 2009, we did so using PayPal as an inspiration. Back then, people weren't sure if they needed a payment gateway like this. There were companies like muncha.com and harilo.com, but they were focused on foreign customers. Until Daraz came in full force with Alibaba's investments in 2018, we didn't find many sparks in digital payment. One problem in 2009 was load shedding, and this was a major obstacle to the growth of e-commerce. Internet penetration was less than 15 percent. From 2009 to 2012, there were very few clients.
In 2012, we had 19,000 customers, but it was not viable to continue the business, and there were only 4,000 to 5,000 active customers. Most of them were cyber cafe operators providing services to others. In 2012 we relaunched eSewa and it wasn't until 2014 that we started to gain ground in the market. Today, we have 5.3 million customers and 140,000 agents, and 500,000 merchants where digital payment is accepted. The Covid-19 has also helped accelerate growth. Post-Covid, the digital transformation we've been waiting for has arrived. During the first foreclosure, we acquired 350,000 customers, more than three times the growth rate.
We cannot compare the growth in Internet penetration with the growth in e-commerce. The internet penetration data provided by the Nepal Telecommunications Authority is wrong because no one knows what the numbers really mean, and even the authority does not have a clear answer. We have access to the data, but what about the use of the data and at what cost?
In order for the consumer to engage in digital commerce, all parts of the ecommerce ecosystem need to be in sync, which is quite complicated.
The growth we have gained in e-commerce over the past two decades is huge despite the challenges of internet penetration, data and logistics ecosystem.
Ecommerce transactions through payment gateways like ours are up 300% from a year ago.
We do not have a strict policy on buyers, consumer protection policy, seller protection policy, payment regulation policy in terms of payment refund and payment fee. We need a uniform policy; but at the same time, it shouldn't be a problem for companies either.