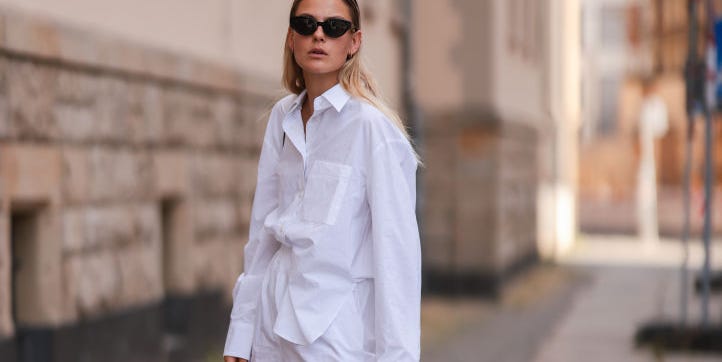 Best Matching Shirts and Shorts for Women
Jeremy MoellerGetty Images
Every year there is always a standout look that sets the style agenda for the summer season. In recent years we've embraced everything from bike shorts and baggy tees to colorful flowy dresses, but for 2022 it's definitely the matching shirt and shorts combo that's got people going.
Giving off a nonchalant vibe, the shirt and shorts ensemble is carefree yet put together and has been spotted on countless influencers on Instagram. Designers such as Deiji Studios, Frankie Shop, Rails and Emporio Sirenuse have released coveted designs this season and there are also great high street options like Arket and Cos.
When it comes to choosing a set, there are two different styles to choose from. You have the looser sets in linen or cotton that have a boxier, more relaxed fit, then you have the retro 70s-inspired terrycloth shirts and shorts just waiting to be taken to the poolside. . If you go for the former, the key to not making them look like a pajama set is accessorizing. Because of the fabric, they might run the risk of looking night-ready, but paired with jewelry, a shoulder bag or tote and some on-trend sandals, you're on safe ground.
Below we've rounded up some of our favorite shirt and shorts sets to buy now. From understated neutrals to party-ready stripes and color blocks, which one will you go for?
Advertising – Continue Reading Below
This muted blue is universally flattering and is perfect for the minimalist dresser who loves a little Color.
This candy-pink linen set from Emporio Sirenuse has a more elegant look with its embroidered details and slimmer silhouette. It is perfect for holiday dinner parties or summer evenings.
A super soft terrycloth set from Los Angeles-based brand, Rails. It is both comfortable and sophisticated.
This plaid set includes high waisted boxer style shorts and you can pair them with this matching long sleeve shirt, blouse or short sleeve work shirt.
Perfect for the city, this hunting green set from Cos has a loose, oversized fit and pairs just as well with sandals as it does with trainers.
If you like a retro summer vacation look, you can't do better than this seahorse set from Samsøe Samsøe. Buy the shorts here.
Are you looking for a more suitable set for the evening for your holidays? This dusty lilac set from American Vintage is the perfect match with its floral print and silky feel.
Another terry entry but this time in dusty bluebell. The A-line shorts feature a tie waist and the t-shirt features a spring collar and snap front closure.
This content is created and maintained by a third party, and uploaded to this page to help users provide their email addresses. You may be able to find more information about this and similar content on piano.io
Advertising – Continue Reading Below